Introduction
The study of political behavior seeks to explain how individuals develop political attitudes and how these translate into political behavior. By studying how individual attitudes and behavior are produced by deep-seated factors such as personality predispositions or early socialisation as well as contemporaneous factors such as personal experiences and mass communications, we can arrive at a nuanced understanding of how individuals are shaped as political actors.
Political Behavior covers the field of political behavior through four grand themes, each covering a number of topics:
Grand theme 1: Types of political behavior
Public opinion
Vote choice
Participation
Grand Theme 2: Personal and psychological causes
Self-interest & economic voting
Predispositions & evolution
Groups & identity
Heuristics & motivated reasoning
Grand Theme 3: Social and societal causes
Media, framing & priming
Interpersonal influence & personal experiences
Social media
Grand Theme 4: Representation and party behavior
Representation
Party behavior
The course is closely tied to Advanced Quantitative Methods in the Study of Political Behavior, the other mandatory course in the Political Behavior core subject.
The instruction language is Danish and English, depending on the first language of the instructor.
Time and place
Group 1: Mondays 13-17, room 7.0.34
Group 2: Tuesdays 8-12, room 2.1.36
Starting week 45, Group 2 changes rooms:
Wk. 45, 46 in CSS 2.2.02 Wk. 47-50 in CSS 7.0.18
Class Padlet
Instructors
Frederik Hjorth
E-mail: fh@ifs.ku.dk Office: 18.2.14
Office hours: Wednesday 1pm-2pm
Jonathan Polk
E-mail: jp@ifs.ku.dk Office: 12.2.15 Office hours: Tuesdays 1pm-2pm
Clara Vandeweerdt
E-mail: claravdw@mit.edu
Books
We will read most chapters from Oprør fra Udkanten, which covers the 2015 election. In class, we will compare the book's findings with data from the 2019 election. Oprør fra Udkanten is available in Academic Books on campus.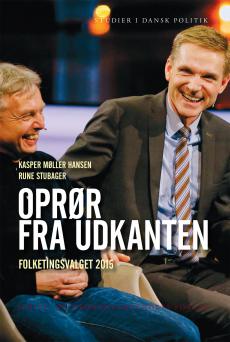 Final exam
For more info on the free exam, see the Final exam page.